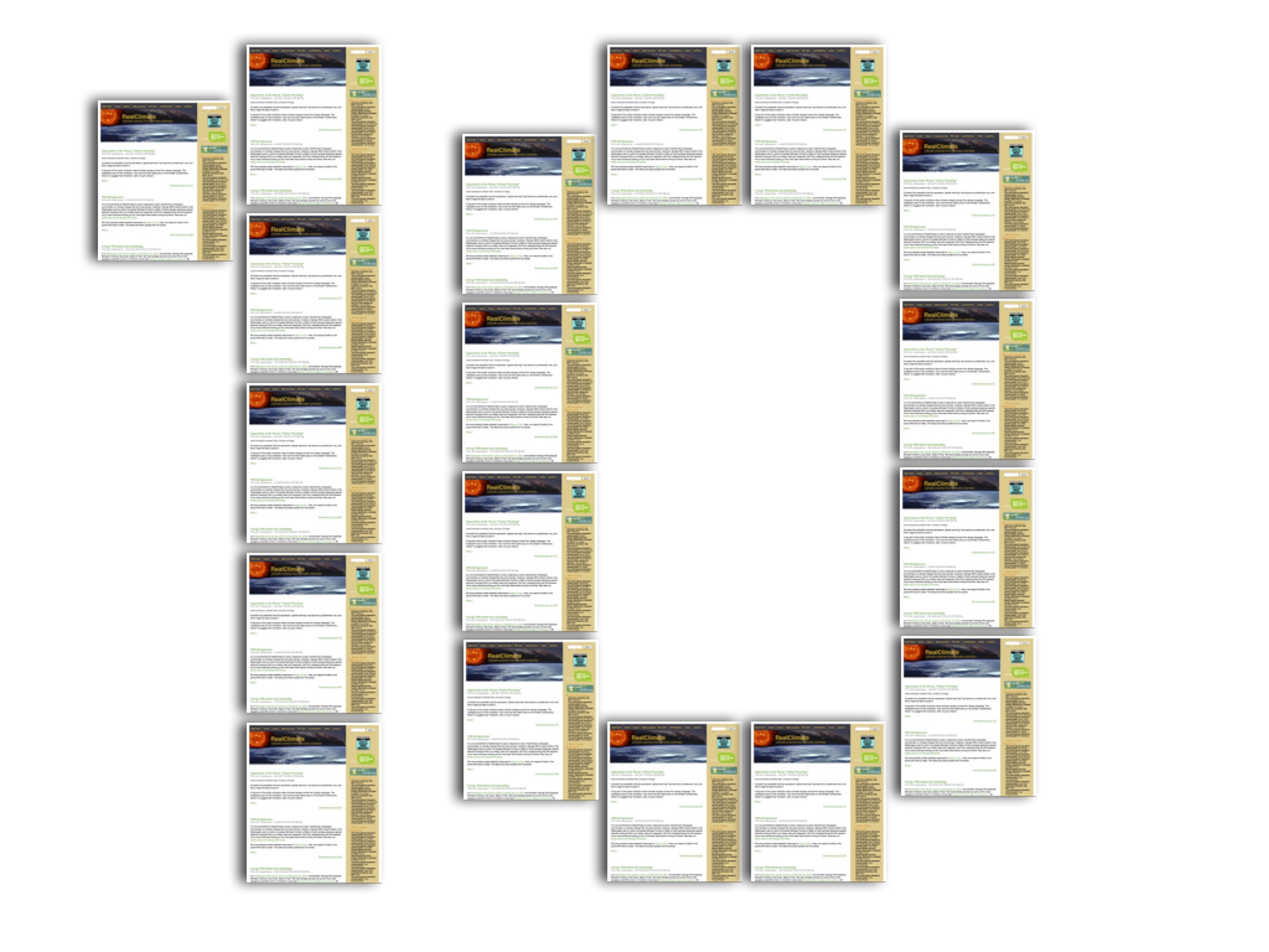 In the spring of 2004, when we (individually) first started talking to people about starting a blog on climate science, almost everyone thought it was a great idea, but very few thought it was something they should get involved in. Today, scientists communicating on social media is far more commonplace. On the occasion of our 10 year anniversary today it is worth reflecting on the impact of those changes, what we've learned and where we go next.
Why we started and why we continue
The introductory post Welcome to RealClimate set out our aspiration:
RealClimate is a commentary site on climate science by working climate scientists for the interested public and journalists. We aim to provide a quick response to developing stories and provide the context sometimes missing in mainstream commentary.
Looking back, we think we've done well on both these goals. We have provided the most, and the most accessible, context on topics like climate sensitivity, GCMs, attribution, paleo-climate than any other site, with an exception only for the IPCC reports themselves and other assessments, while engaging in depth with commenters from the interested public, journalists and other scientists. We haven't led the response to every developing story on climate science (an impossible task), but we did where it mattered. Our rebuttals of shop-worn contrarian rhetoric built off experiences on USENET and at Tim Lambert's Deltoid, and have now been enhanced further at places like SkepticalScience.com.
When we started, there were a number of motivations: the desire to have a site where scientists communicated directly with the interested public on issues arising from the "The Day After Tomorrow" say, or provided rebuttals to misinformation as the "The Panda's Thumb" did for evolution science, or just to write down background we gave to journalists so that we didn't have to repeat ourselves. But the impetus to keep this going has been a continued desire to elevate the level of conversation on climate so that people could get a sense of what the real issues in the science were, as opposed to arguing about irrelevancies.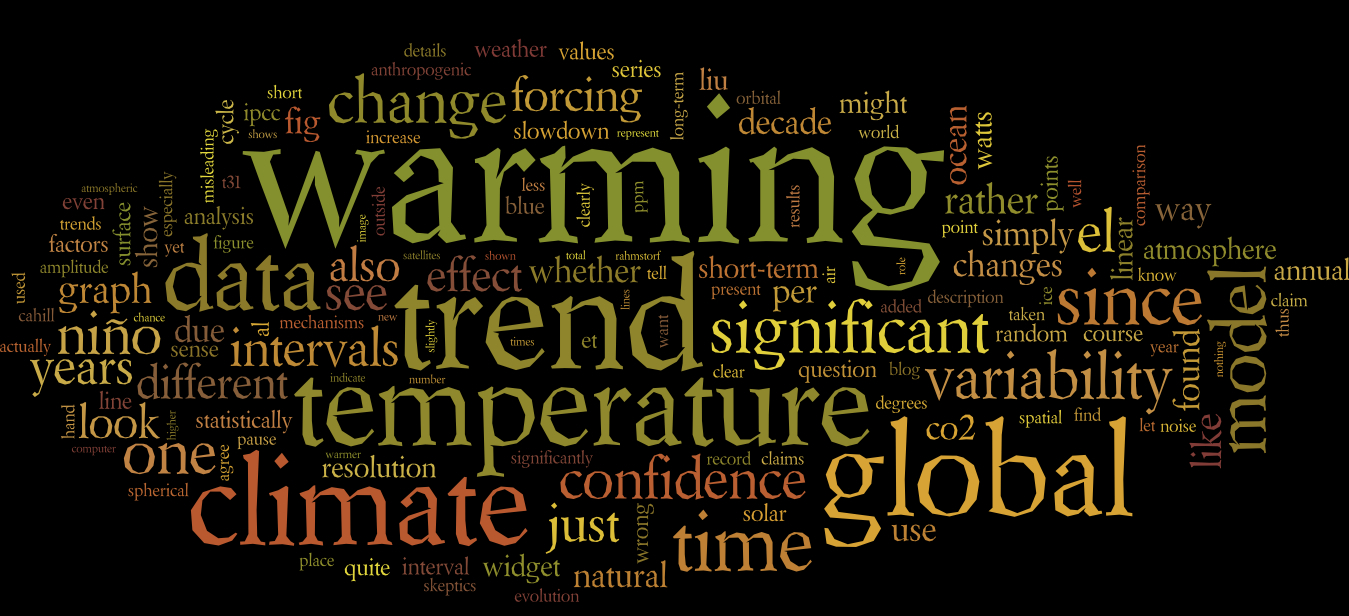 To our surprise though, one of key audiences has always been the wider scientific community and other climate scientists themselves. In retrospect this should have been expected. "Climate science" as a topic has grown a little like the Borg – assimilating fields that were loosely connected (oceanography, meteorology, atmospheric chemistry, geology etc.) which over time have become far more connected. This has meant that many people who started out as different kinds of "-ologists" now find themselves being asked questions, teaching and writing about climate. It's understandable that ecologists might not have learned much about stratospheric chemistry in their training, or that synoptic meteorologists wouldn't know much about paleo-climate, or that field scientists don't know much about GCMs. RealClimate has played a big role in bringing these diverse groups "up to speed" on the shared concepts of climate science.
Of course, there are still plenty of know-nothing op-eds from people who'd really prefer the science not to exist, and many loud and misinformed commenters elsewhere on the web; but, in contrast, there have been countless people who have thanked us for providing more background on the issues and for engaging their questions. To be sure, there were times when it all seemed like nothing had changed.
RealClimate has had a noticeable effect on our scientific careers. We would argue that it has made us better communicators (our early posts are much less polished then ones now) and it certainly increased our public profiles in both positive (e.g. the inaugural AGU Climate Communication Prize) and negative ways (FOIA lawsuits to access RealClimate emails). It has even driven our research in cases where we found that there wasn't much literature on questions that came up here.
Lessons learned
Over the last ten years we have (in our opinion) got better at running a blog, and indeed, at writing for them. To start with, we didn't envisage there would be quite as much interaction as we ended up with and this brought up a host of issues for how to handle it. Firstly, we have always (and unapologetically) moderated the comment threads. In our opinion this remains essential for curating an interesting and substantive conversation. It took us a while to realise that a continuously available 'Open Thread' (the first one was in Jan 2011) was a really good way to keep other threads on topic which was a perennial problem. At that same time, we started a "Bore Hole" thread to dump the more tedious of the troll comments – this too was something we should have done from the start to increase transparency.
One thing we did from the beginning was set up a system of internal peer review among the group for all the substantive posts. While on rare occasions there was disagreement on what to say (and more commonly, how to say it), overall this has been a huge boost to getting the science right, improving the writing and setting the tone. Another excellent idea (and it might even have been a novelty) is to respond to questions and comments "inline". This has been very helpful in building conversations and effectively interacting with readers without a sprawling mess of threaded comments, and remains a highlight of the comment threads. Our responses are often pointed, though hopefully sometimes amusing, as well as being informative, though on occasion we let frustration get the better of us.
Standing the test of time
Looking back over the hundreds of posts, the breadth of science covered by the contributors (including the guest posts) has been huge. Some of the content was very specific to ephemeral issues that now seems a little quaint, but a lot of the content stands out clearly as worth referencing still. The relevance of critiques of particular idiocies from Fred Singer or an obscure article, while valid, has faded, while general posts on attribution, paleoclimate, climate sensitivity and the surface temperature records remain interesting even years later.
Overall, we think we have much to be proud of and that the sometimes enormous amount of time spent on the site was (almost all) worthwhile. We are however very interested in what you, the readers, think about this. If you have always lurked and never commented, please let us know why. If you think we're wasting our time, again, let us know (politely please!). If you have learned anything interesting here, from either the posts or the comments, please tell us what.
In three follow-up posts we give some of the numbers on what RealClimate has done, a big shout out to the people who've contributed and later this week we'll discuss what happens next.