I have written a number of times about the procedure used to attribute recent climate change (here in 2010, in 2012 (about the AR4 statement), and again in 2013 after AR5 was released). For people who want a summary of what the attribution problem is, how we think about the human contributions and why the IPCC reaches the conclusions it does, read those posts instead of this one.
The bottom line is that multiple studies indicate with very strong confidence that human activity is the dominant component in the warming of the last 50 to 60 years, and that our best estimates are that pretty much all of the rise is anthropogenic.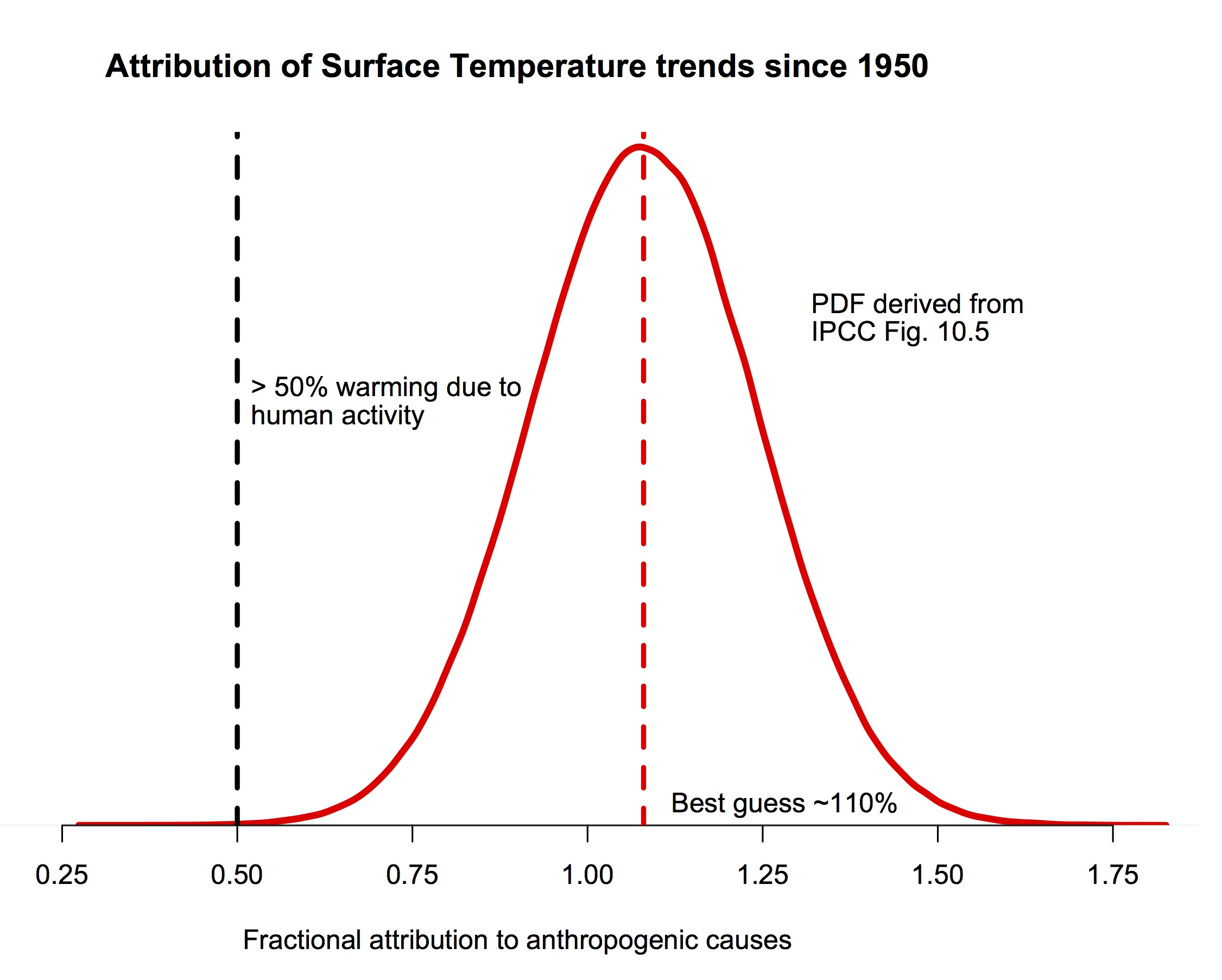 The probability density function for the fraction of warming attributable to human activity (derived from Fig. 10.5 in IPCC AR5). The bulk of the probability is far to the right of the "50%" line, and the peak is around 110%.
If you are still here, I should be clear that this post is focused on a specific claim Judith Curry has recently blogged about supporting a "50-50" attribution (i.e. that trends since the middle of the 20th Century are 50% human-caused, and 50% natural, a position that would center her pdf at 0.5 in the figure above). She also commented about her puzzlement about why other scientists don't agree with her. Reading over her arguments in detail, I find very little to recommend them, and perhaps the reasoning for this will be interesting for readers. So, here follows a line-by-line commentary on her recent post. Please excuse the length.

Starting from the top… (note, quotes from Judith Curry's blog are blockquoted).
Pick one:

a) Warming since 1950 is predominantly (more than 50%) caused by humans.

b) Warming since 1950 is predominantly caused by natural processes.

When faced with a choice between a) and b), I respond: 'I can't choose, since i think the most likely split between natural and anthropogenic causes to recent global warming is about 50-50′. Gavin thinks I'm 'making things up', so I promised yet another post on this topic.
This is not a good start. The statements that ended up in the IPCC SPMs are descriptions of what was found in the main chapters and in the papers they were assessing, not questions that were independently thought about and then answered. Thus while this dichotomy might represent Judith's problem right now, it has nothing to do with what IPCC concluded. In addition, in framing this as a binary choice, it gives implicit (but invalid) support to the idea that each choice is equally likely. That this is invalid reasoning should be obvious by simply replacing 50% with any other value and noting that the half/half argument could be made independent of any data.
For background and context, see my previous 4 part series Overconfidence in the IPCC's detection and attribution.

Framing

The IPCC's AR5 attribution statement:

It is extremely likely that more than half of the observed increase in global average surface temperature from 1951 to 2010 was caused by the anthropogenic increase in greenhouse gas concentrations and other anthropogenic forcings together. The best estimate of the human induced contribution to warming is similar to the observed warming over this period.

I've remarked on the 'most' (previous incarnation of 'more than half', equivalent in meaning) in my Uncertainty Monster paper:

Further, the attribution statement itself is at best imprecise and at worst ambiguous: what does "most" mean – 51% or 99%?

Whether it is 51% or 99% would seem to make a rather big difference regarding the policy response. It's time for climate scientists to refine this range.

I am arguing here that the 'choice' regarding attribution shouldn't be binary, and there should not be a break at 50%; rather we should consider the following terciles for the net anthropogenic contribution to warming since 1950:

JC note: I removed the bounds at 100% and 0% as per a comment from Bart Verheggen.

Hence 50-50 refers to the tercile 33-66% (as the midpoint)
Here Judith makes the same mistake that I commented on in my 2012 post – assuming that a statement about where the bulk of the pdf lies is a statement about where it's mean is and that it must be cut off at some value (whether it is 99% or 100%). Neither of those things follow. I will gloss over the completely unnecessary confusion of the meaning of the word 'most' (again thoroughly discussed in 2012). I will also not get into policy implications since the question itself is purely a scientific one.
The division into terciles for the analysis is not a problem though, and the weight of the pdf in each tercile can easily be calculated. Translating the top figure, the likelihood of the attribution of the 1950+ trend to anthropogenic forcings falling in each tercile is 2×10-4%, 0.4% and 99.5% respectively.
Note: I am referring only to a period of overall warming, so by definition the cooling argument is eliminated. Further, I am referring to the NET anthropogenic effect (greenhouse gases + aerosols + etc). I am looking to compare the relative magnitudes of net anthropogenic contribution with net natural contributions.
The two IPCC statements discussed attribution to greenhouse gases (in AR4) and to all anthropogenic forcings (in AR5) (the subtleties involved there are discussed in the 2013 post). I don't know what she refers to as the 'cooling argument', since it is clear that the temperatures have indeed warmed since 1950 (the period referred to in the IPCC statements). It is worth pointing out that there can be no assumption that natural contributions must be positive – indeed for any random time period of any length, one would expect natural contributions to be cooling half the time.
Further, by global warming I refer explicitly to the historical record of global average surface temperatures. Other data sets such as ocean heat content, sea ice extent, whatever, are not sufficiently mature or long-range (see Climate data records: maturity matrix). Further, the surface temperature is most relevant to climate change impacts, since humans and land ecosystems live on the surface. I acknowledge that temperature variations can vary over the earth's surface, and that heat can be stored/released by vertical processes in the atmosphere and ocean. But the key issue of societal relevance (not to mention the focus of IPCC detection and attribution arguments) is the realization of this heat on the Earth's surface.
Fine with this.
IPCC

Before getting into my 50-50 argument, a brief review of the IPCC perspective on detection and attribution. For detection, see my post Overconfidence in IPCC's detection and attribution. Part I.

Let me clarify the distinction between detection and attribution, as used by the IPCC. Detection refers to change above and beyond natural internal variability. Once a change is detected, attribution attempts to identify external drivers of the change.

The reasoning process used by the IPCC in assessing confidence in its attribution statement is described by this statement from the AR4:

"The approaches used in detection and attribution research described above cannot fully account for all uncertainties, and thus ultimately expert judgement is required to give a calibrated assessment of whether a specific cause is responsible for a given climate change. The assessment approach used in this chapter is to consider results from multiple studies using a variety of observational data sets, models, forcings and analysis techniques. The assessment based on these results typically takes into account the number of studies, the extent to which there is consensus among studies on the significance of detection results, the extent to which there is consensus on the consistency between the observed change and the change expected from forcing, the degree of consistency with other types of evidence, the extent to which known uncertainties are accounted for in and between studies, and whether there might be other physically plausible explanations for the given climate change. Having determined a particular likelihood assessment, this was then further downweighted to take into account any remaining uncertainties, such as, for example, structural uncertainties or a limited exploration of possible forcing histories of uncertain forcings. The overall assessment also considers whether several independent lines of evidence strengthen a result." (IPCC AR4)

I won't make a judgment here as to how 'expert judgment' and subjective 'down weighting' is different from 'making things up'
Is expert judgement about the structural uncertainties in a statistical procedure associated with various assumptions that need to be made different from 'making things up'? Actually, yes – it is.
AR5 Chapter 10 has a more extensive discussion on the philosophy and methodology of detection and attribution, but the general idea has not really changed from AR4.

In my previous post (related to the AR4), I asked the question: what was the original likelihood assessment from which this apparently minimal downweighting occurred? The AR5 provides an answer:

The best estimate of the human induced contribution to warming is similar to the observed warming over this period.

So, I interpret this as scything that the IPCC's best estimate is that 100% of the warming since 1950 is attributable to humans, and they then down weight this to 'more than half' to account for various uncertainties. And then assign an 'extremely likely' confidence level to all this.

Making things up, anyone?
This is very confused. The basis of the AR5 calculation is summarised in figure 10.5: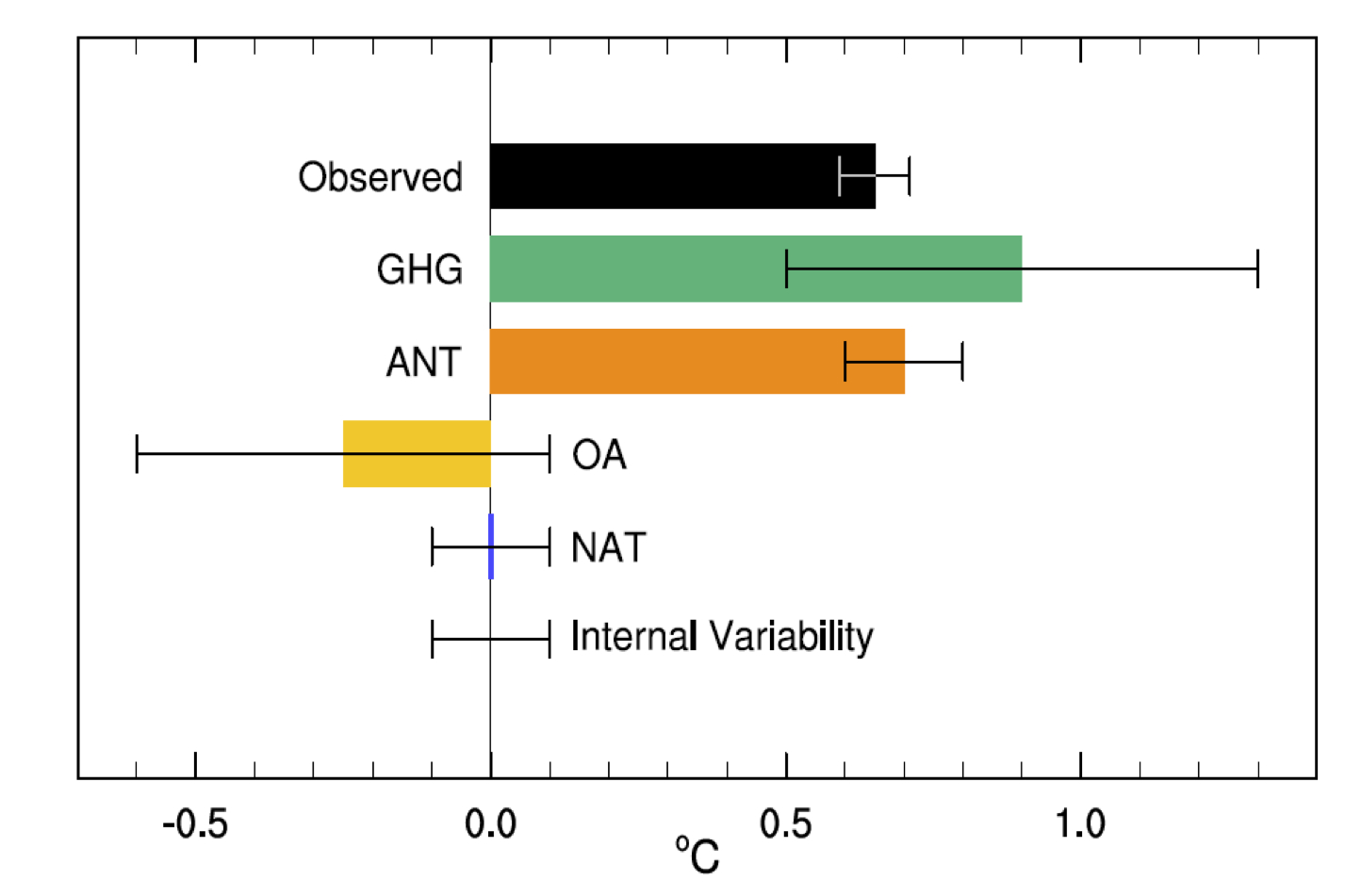 The best estimate of the warming due to anthropogenic forcings (ANT) is the orange bar (noting the 1𝛔 uncertainties). Reading off the graph, it is 0.7±0.2ºC (5-95%) with the observed warming 0.65±0.06 (5-95%). The attribution then follows as having a mean of ~110%, with a 5-95% range of 80–130%. This easily justifies the IPCC claims of having a mean near 100%, and a very low likelihood of the attribution being less than 50% (p < 0.0001!). Note there is no 'downweighting' of any argument here – both statements are true given the numerical distribution. However, there must be some expert judgement to assess what potential structural errors might exist in the procedure. For instance, the assumption that fingerprint patterns are linearly additive, or uncertainties in the pattern because of deficiencies in the forcings or models etc. In the absence of any reason to think that the attribution procedure is biased (and Judith offers none), structural uncertainties will only serve to expand the spread. Note that one would need to expand the uncertainties by a factor of 3 in both directions to contradict the first part of the IPCC statement. That seems unlikely in the absence of any demonstration of some huge missing factors.
I've just reread Overconfidence in IPCC's detection and attribution. Part IV, I recommend that anyone who seriously wants to understand this should read this previous post. It explains why I think the AR5 detection and attribution reasoning is flawed.

Of particular relevance to the 50-50 argument, the IPCC has failed to convincingly demonstrate 'detection.' Because historical records aren't long enough and paleo reconstructions are not reliable, the climate models 'detect' AGW by comparing natural forcing simulations with anthropogenically forced simulations. When the spectra of the variability of the unforced simulations is compared with the observed spectra of variability, the AR4 simulations show insufficient variability at 40-100 yrs, whereas AR5 simulations show reasonable variability. The IPCC then regards the divergence between unforced and anthropogenically forced simulations after ~1980 as the heart of the their detection and attribution argument. See Figure 10.1 from AR5 WGI (a) is with natural and anthropogenic forcing; (b) is without anthropogenic forcing:
This is also confused. "Detection" is (like attribution) a model-based exercise, starting from the idea that one can estimate the result of a counterfactual: what would the temperature have done in the absence of the drivers compared to what it would do if they were included? GCM results show clearly that the expected anthropogenic signal would start to be detectable ("come out of the noise") sometime after 1980 (for reference, Hansen's public statement to that effect was in 1988). There is no obvious discrepancy in spectra between the CMIP5 models and the observations, and so I am unclear why Judith finds the detection step lacking. It is interesting to note that given the variability in the models, the anthropogenic signal is now more than 5𝛔 over what would have been expected naturally (and if it's good enough for the Higgs Boson….).
Note in particular that the models fail to simulate the observed warming between 1910 and 1940.
Here Judith is (I think) referring to the mismatch between the ensemble mean (red) and the observations (black) in that period. But the red line is simply an estimate of the forced trends, so the correct reading of the graph would be that the models do not support an argument suggesting that all of the 1910-1940 excursion is forced (contingent on the forcing datasets that were used), which is what was stated in AR5. However, the observations are well within the spread of the models and so could easily be within the range of the forced trend + simulated internal variability. A quick analysis (a proper attribution study is more involved than this) gives an observed trend over 1910-1940 as 0.13 to 0.15ºC/decade (depending the dataset, with ±0.03ºC (5-95%) uncertainty in the OLS), while the spread in my collation of the historical CMIP5 models is 0.07±0.07ºC/decade (5-95%). Specifically, 8 model runs out of 131 have trends over that period greater than 0.13ºC/decade – suggesting that one might see this magnitude of excursion 5-10% of the time. For reference, the GHG related trend in the GISS models over that period is about 0.06ºC/decade. However, the uncertainties in the forcings for that period are larger than in recent decades (in particular for the solar and aerosol-related emissions) and so the forced trend (0.07ºC/decade) could have been different in reality. And since we don't have good ocean heat content data, nor any satellite observations, or any measurements of stratospheric temperatures to help distinguish potential errors in the forcing from internal variability, it is inevitable that there will be more uncertainty in the attribution for that period than for more recently.
The glaring flaw in their logic is this. If you are trying to attribute warming over a short period, e.g. since 1980, detection requires that you explicitly consider the phasing of multidecadal natural internal variability during that period (e.g. AMO, PDO), not just the spectra over a long time period. Attribution arguments of late 20th century warming have failed to pass the detection threshold which requires accounting for the phasing of the AMO and PDO. It is typically argued that these oscillations go up and down, in net they are a wash. Maybe, but they are NOT a wash when you are considering a period of the order, or shorter than, the multidecadal time scales associated with these oscillations.
Watch the pea under the thimble here. The IPCC statements were from a relatively long period (i.e. 1950 to 2005/2010). Judith jumps to assessing shorter trends (i.e. from 1980) and shorter periods obviously have the potential to have a higher component of internal variability. The whole point about looking at longer periods is that internal oscillations have a smaller contribution. Since she is arguing that the AMO/PDO have potentially multi-decadal periods, then she should be supportive of using multi-decadal periods (i.e. 50, 60 years or more) for the attribution.
Further, in the presence of multidecadal oscillations with a nominal 60-80 yr time scale, convincing attribution requires that you can attribute the variability for more than one 60-80 yr period, preferably back to the mid 19th century. Not being able to address the attribution of change in the early 20th century to my mind precludes any highly confident attribution of change in the late 20th century.
This isn't quite right. Our expectation (from basic theory and models) is that the second half of the 20th C is when anthropogenic effects really took off. Restricting attribution to 120-160 yr trends seems too constraining – though there is no problem in looking at that too. However, Judith is actually assuming what remains to be determined. What is the evidence that all 60-80yr variability is natural? Variations in forcings (in particularly aerosols, and maybe solar) can easily project onto this timescale and so any separation of forced vs. internal variability is really difficult based on statistical arguments alone (see also Mann et al, 2014). Indeed, it is the attribution exercise that helps you conclude what the magnitude of any internal oscillations might be. Note that if we were only looking at the global mean temperature, there would be quite a lot of wiggle room for different contributions. Looking deeper into different variables and spatial patterns is what allows for a more precise result.
The 50-50 argument

There are multiple lines of evidence supporting the 50-50 (middle tercile) attribution argument. Here are the major ones, to my mind.

Sensitivity

The 100% anthropogenic attribution from climate models is derived from climate models that have an average equilibrium climate sensitivity (ECS) around 3C. One of the major findings from AR5 WG1 was the divergence in ECS determined via climate models versus observations. This divergence led the AR5 to lower the likely bound on ECS to 1.5C (with ECS very unlikely to be below 1C).
Judith's argument misstates how forcing fingerprints from GCMs are used in attribution studies. Notably, they are scaled to get the best fit to the observations (along with the other terms). If the models all had sensitivities of either 1ºC or 6ºC, the attribution to anthropogenic changes would be the same as long as the pattern of change was robust. What would change would be the scaling – less than one would imply a better fit with a lower sensitivity (or smaller forcing), and vice versa (see figure 10.4).
She also misstates how ECS is constrained – all constraints come from observations (whether from long-term paleo-climate observations, transient observations over the 20th Century or observations of emergent properties that correlate to sensitivity) combined with some sort of model. The divergence in AR5 was between constraints based on the transient observations using simplified energy balance models (EBM), and everything else. Subsequent work (for instance by Drew Shindell) has shown that the simplified EBMs are missing important transient effects associated with aerosols, and so the divergence is very likely less than AR5 assessed.
Nic Lewis at Climate Dialogue summarizes the observational evidence for ECS between 1.5 and 2C, with transient climate response (TCR) around 1.3C.

Nic Lewis has a comment at BishopHill on this:

The press release for the new study states: "Rapid warming in the last two and a half decades of the 20th century, they proposed in an earlier study, was roughly half due to global warming and half to the natural Atlantic Ocean cycle that kept more heat near the surface." If only half the warming over 1976-2000 (linear trend 0.18°C/decade) was indeed anthropogenic, and the IPCC AR5 best estimate of the change in anthropogenic forcing over that period (linear trend 0.33Wm-2/decade) is accurate, then the transient climate response (TCR) would be little over 1°C. That is probably going too far, but the 1.3-1.4°C estimate in my and Marcel Crok's report A Sensitive Matter is certainly supported by Chen and Tung's findings.

Since the CMIP5 models used by the IPCC on average adequately reproduce observed global warming in the last two and a half decades of the 20th century without any contribution from multidecadal ocean variability, it follows that those models (whose mean TCR is slightly over 1.8°C) must be substantially too sensitive.

BTW, the longer term anthropogenic warming trends (50, 75 and 100 year) to 2011, after removing the solar, ENSO, volcanic and AMO signals given in Fig. 5 B of Tung's earlier study (freely accessible via the link), of respectively 0.083, 0.078 and 0.068°C/decade also support low TCR values (varying from 0.91°C to 1.37°C), upon dividing by the linear trends exhibited by the IPCC AR5 best estimate time series for anthropogenic forcing. My own work gives TCR estimates towards the upper end of that range, still far below the average for CMIP5 models.

If true climate sensitivity is only 50-65% of the magnitude that is being simulated by climate models, then it is not unreasonable to infer that attribution of late 20th century warming is not 100% caused by anthropogenic factors, and attribution to anthropogenic forcing is in the middle tercile (50-50).

The IPCC's attribution statement does not seem logically consistent with the uncertainty in climate sensitivity.
This is related to a paper by Tung and Zhou (2013). Note that the attribution statement has again shifted to the last 25 years of the 20th Century (1976-2000). But there are a couple of major problems with this argument though. First of all, Tung and Zhou assumed that all multi-decadal variability was associated with the Atlantic Multi-decadal Oscillation (AMO) and did not assess whether anthropogenic forcings could project onto this variability. It is circular reasoning to then use this paper to conclude that all multi-decadal variability is associated with the AMO.
The second problem is more serious. Lewis' argument up until now that the best fit to the transient evolution over the 20th Century is with a relatively small sensitivity and small aerosol forcing (as opposed to a larger sensitivity and larger opposing aerosol forcing). However, in both these cases the attribution of the long-term trend to the combined anthropogenic effects is actually the same (near 100%). Indeed, one valid criticism of the recent papers on transient constraints is precisely that the simple models used do not have sufficient decadal variability!
Climate variability since 1900

From HadCRUT4:

The IPCC does not have a convincing explanation for:

warming from 1910-1940
cooling from 1940-1975
hiatus from 1998 to present

The IPCC purports to have a highly confident explanation for the warming since 1950, but it was only during the period 1976-2000 when the global surface temperatures actually increased.

The absence of convincing attribution of periods other than 1976-present to anthropogenic forcing leaves natural climate variability as the cause – some combination of solar (including solar indirect effects), uncertain volcanic forcing, natural internal (intrinsic variability) and possible unknown unknowns.
This point is not an argument for any particular attribution level. As is well known, using an argument of total ignorance to assume that the choice between two arbitrary alternatives must be 50/50 is a fallacy.
Attribution for any particular period follows exactly the same methodology as any other. What IPCC chooses to highlight is of course up to the authors, but there is nothing preventing an assessment of any of these periods. In general, the shorter the time period, the greater potential for internal variability, or (equivalently) the larger the forced signal needs to be in order to be detected. For instance, Pinatubo was a big rapid signal so that was detectable even in just a few years of data.
I gave a basic attribution for the 1910-1940 period above. The 1940-1975 average trend in the CMIP5 ensemble is -0.01ºC/decade (range -0.2 to 0.1ºC/decade), compared to -0.003 to -0.03ºC/decade in the observations and are therefore a reasonable fit. The GHG driven trends for this period are ~0.1ºC/decade, implying that there is a roughly opposite forcing coming from aerosols and volcanoes in the ensemble. The situation post-1998 is a little different because of the CMIP5 design, and ongoing reevaluations of recent forcings (Schmidt et al, 2014;Huber and Knutti, 2014). Better information about ocean heat content is also available to help there, but this is still a work in progress and is a great example of why it is harder to attribute changes over small time periods.
In the GCMs, the importance of internal variability to the trend decreases as a function of time. For 30 year trends, internal variations can have a ±0.12ºC/decade or so impact on trends, for 60 year trends, closer to ±0.08ºC/decade. For an expected anthropogenic trend of around 0.2ºC/decade, the signal will be clearer over the longer term. Thus cutting down the period to ever-shorter periods of years increases the challenges and one can end up simply cherry picking the noise instead of seeing the signal.
A key issue in attribution studies is to provide an answer to the question: When did anthropogenic global warming begin? As per the IPCC's own analyses, significant warming didn't begin until 1950. Just the Facts has a good post on this When did anthropogenic global warming begin?
I disagree as to whether this is a "key" issue for attribution studies, but as to when anthropogenic warming began, the answer is actually quite simple – when we started altering the atmosphere and land surface at climatically relevant scales. For the CO2 increase from deforestation this goes back millennia, for fossil fuel CO2, since the invention of the steam engine at least. In both cases there was a big uptick in the 18th Century. Perhaps that isn't what Judith is getting at though. If she means when was it easily detectable, I discussed that above and the answer is sometime in the early 1980s.
The temperature record since 1900 is often characterized as a staircase, with periods of warming sequentially followed by periods of stasis/cooling. The stadium wave and Chen and Tung papers, among others, are consistent with the idea that the multidecadal oscillations, when superimposed on an overall warming trend, can account for the overall staircase pattern.
Nobody has any problems with the idea that multi-decadal internal variability might be important. The problem with many studies on this topic is the assumption that all multi-decadal variability is internal. This is very much an open question.
Let's consider the 21st century hiatus. The continued forcing from CO2 over this period is substantial, not to mention 'warming in the pipeline' from late 20th century increase in CO2. To counter the expected warming from current forcing and the pipeline requires natural variability to effectively be of the same magnitude as the anthropogenic forcing. This is the rationale that Tung used to justify his 50-50 attribution (see also Tung and Zhou). The natural variability contribution may not be solely due to internal/intrinsic variability, and there is much speculation related to solar activity. There are also arguments related to aerosol forcing, which I personally find unconvincing (the topic of a future post).
Shorter time-periods are noisier. There are more possible influences of an appropriate magnitude and, for the recent period, continued (and very frustrating) uncertainties in aerosol effects. This has very little to do with the attribution for longer-time periods though (since change of forcing is much larger and impacts of internal variability smaller).
The IPCC notes overall warming since 1880. In particular, the period 1910-1940 is a period of warming that is comparable in duration and magnitude to the warming 1976-2000. Any anthropogenic forcing of that warming is very small (see Figure 10.1 above). The timing of the early 20th century warming is consistent with the AMO/PDO (e.g. the stadium wave; also noted by Tung and Zhou). The big unanswered question is: Why is the period 1940-1970 significantly warmer than say 1880-1910? Is it the sun? Is it a longer period ocean oscillation? Could the same processes causing the early 20th century warming be contributing to the late 20th century warming?
If we were just looking at 30 year periods in isolation, it's inevitable that there will be these ambiguities because data quality degrades quickly back in time. But that is exactly why IPCC looks at longer periods.
Not only don't we know the answer to these questions, but no one even seems to be asking them!
This is simply not true.
Attribution

I am arguing that climate models are not fit for the purpose of detection and attribution of climate change on decadal to multidecadal timescales. Figure 10.1 speaks for itself in this regard (see figure 11.25 for a zoom in on the recent hiatus). By 'fit for purpose', I am prepared to settle for getting an answer that falls in the right tercile.
Given the results above it would require a huge source of error to move the bulk of that probability anywhere else other than the right tercile.
The main relevant deficiencies of climate models are:

climate sensitivity that appears to be too high, probably associated with problems in the fast thermodynamic feedbacks (water vapor, lapse rate, clouds)
failure to simulate the correct network of multidecadal oscillations and their correct phasing
substantial uncertainties in aerosol indirect effects
unknown and uncertain solar indirect effects
The sensitivity argument is irrelevant (given that it isn't zero of course). Simulation of the exact phasing of multi-decadal internal oscillations in a free-running GCM is impossible so that is a tough bar to reach! There are indeed uncertainties in aerosol forcing (not just the indirect effects) and, especially in the earlier part of the 20th Century, uncertainties in solar trends and impacts. Indeed, there is even uncertainty in volcanic forcing. However, none of these issues really affect the attribution argument because a) differences in magnitude of forcing over time are assessed by way of the scales in the attribution process, and b) errors in the spatial pattern will end up in the residuals, which are not large enough to change the overall assessment.
Nonetheless, it is worth thinking about what plausible variations in the aerosol or solar effects could have. Given that we are talking about the net anthropogenic effect, the playing off of negative aerosol forcing and climate sensitivity within bounds actually has very little effect on the attribution, so that isn't particularly relevant. A much bigger role for solar would have an impact, but the trend would need to be about 5 times stronger over the relevant period to change the IPCC statement and I am not aware of any evidence to support this (and much that doesn't).
So, how to sort this out and do a more realistic job of detecting climate change and and attributing it to natural variability versus anthropogenic forcing? Observationally based methods and simple models have been underutilized in this regard. Of great importance is to consider uncertainties in external forcing in context of attribution uncertainties.
It is inconsistent to talk in one breath about the importance of aerosol indirect effects and solar indirect effects and then state that 'simple models' are going to do the trick. Both of these issues relate to microphysical effects and atmospheric chemistry – neither of which are accounted for in simple models.
The logic of reasoning about climate uncertainty, is not at all straightforward, as discussed in my paper Reasoning about climate uncertainty.

So, am I 'making things up'? Seems to me that I am applying straightforward logic. Which IMO has been disturbingly absent in attribution arguments, that use climate models that aren't fit for purpose, use circular reasoning in detection, fail to assess the impact of forcing uncertainties on the attribution, and are heavily spiced by expert judgment and subjective downweighting.
My reading of the evidence suggests clearly that the IPCC conclusions are an accurate assessment of the issue. I have tried to follow the proposed logic of Judith's points here, but unfortunately each one of these arguments is either based on a misunderstanding, an unfamiliarity with what is actually being done or is a red herring associated with shorter-term variability. If Judith is interested in why her arguments are not convincing to others, perhaps this can give her some clues.
References