The "World Climate Widget" from Tony Watts' blog is probably the most popular deceptive image among climate "skeptics".  We'll take it under the microscope and show what it would look like when done properly.
So called "climate skeptics" deploy an arsenal of misleading graphics, with which the human influence on the climate can be down played (here are two other  examples deconstructed at Realclimate).  The image below is especially widespread.  It is displayed on many "climate skeptic" websites and is regularly updated.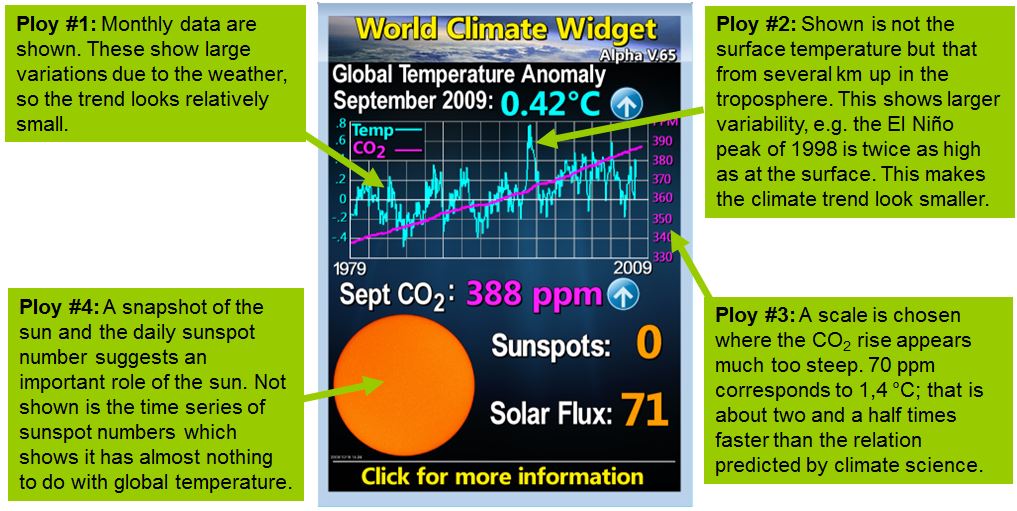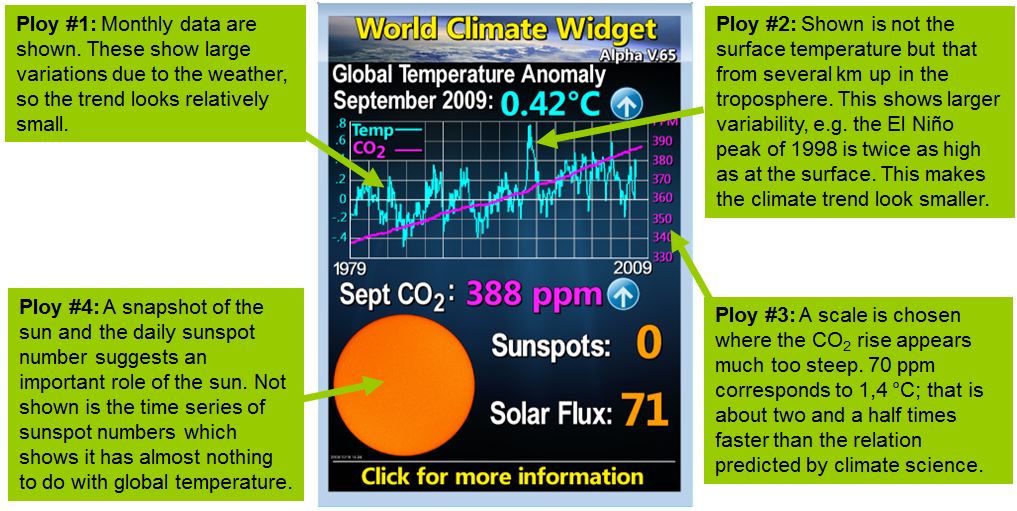 The "World Climate Widget" of US "climate skeptic" Anthony Watts with our explanations added.  The original can be found on Watts' blog
What would a more honest display of temperature, CO2 and sunspots look like?
 It is better to plot the surface air temperature.  That is what is relevant for us humans: we do not live up in the troposphere, nor do natural ecosystems, nor do we grow our food up there. By the way, the satellite-based tropospheric temperatures shown by Watts show almost the same climatic warming trend as those measured by weather stations near ground level (in both cases 0.16 C per decade over the last 30 years).  However, variability in the tropospheric data is considerably larger, especially because of higher sensitivity to El Niño (as happened in 1998) and the solar cycle (we showed that in Foster and Rahmstorf ERL 2011 – when corrected for those factors the surface and troposphere data agree closely).  Because of increased noise, the trend is less obvious to the eye, especially if one shows monthly values which adds yet more noise.  Let us thus use the GISTEMP global annual temperature record from NASA's Goddard Institute for Space Science (all surface data sets agree to better than 0.1 °C, see comparison graph).
 One needs to scale the CO2 data correctly for an honest comparison with temperature, so that it can actually be used to evaluate climate scientists' predictions of the CO2 effect.  You can calculate this with a complicated climate model, but one can also use a back-of-envelope estimate.  A CO2 increase from 280 to 400 ppm (equivalent to 2 Watts/meter2 radiative forcing) produces about 1 °C of global warming (at the time when 400 ppm is reached – some further warming will follow with delay). Thus, an increase of 100 ppm CO2 on the right hand side of the graph corresponds to a temperature increase of 0.8°C on the left hand side. That matches the IPCC's estimate of the "transient climate response (TCR)" of ~2°C at the time of CO2 doubling (see Technical Summary of the IPCC WG1 report, p. 84). The TCR is smaller than the equilibrium climate sensitivity (about 3°C for doubled CO2) because it takes time to warm the oceans. The full equilibrium warming is thus only reached after a time delay. We are going to use the annual values from the famous CO2 measurements which began in 1958 on Mauna Loa in Hawaii.
 And last but not least one should show honest sunspot data (annual time series), not just a snapshot of the number of spots on the sun today (which is completely uninformative for climate purposes – it's apparently been added to the widget simply to insinuate an important role of the sun). Here also there is a question of the proper scaling (which is actually not that important because solar activity is cyclical and shows no significant trend over the period of the graph).  We will chose the scaling from the correlation analysis of Lean and Rind (2008) from which one can find a measurable effect on global temperature with an amplitude of 0.05°C.
When done this way the graph looks like this: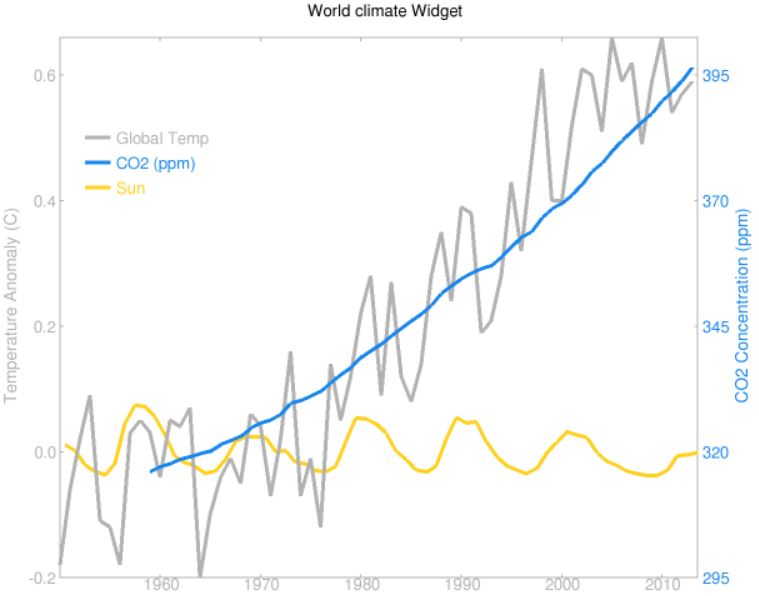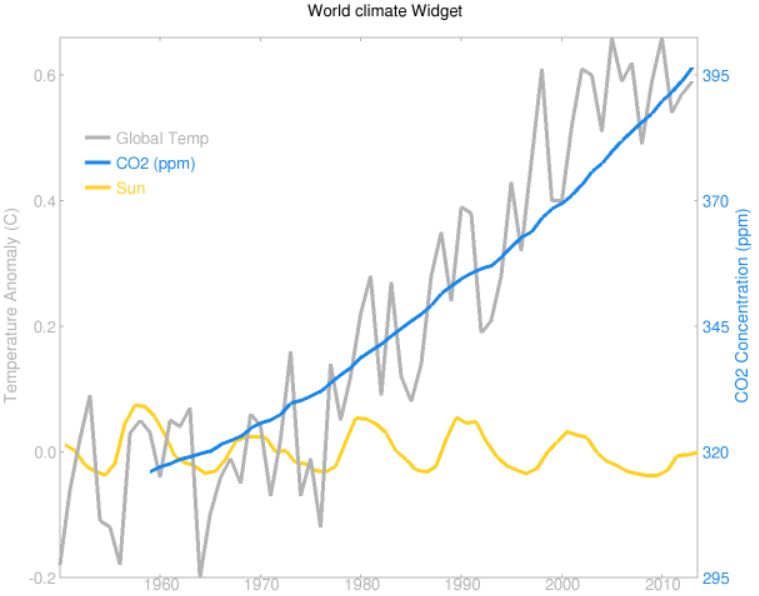 One of the readers of our German sister blog KlimaLounge, Bernd Herd, has programmed a widget for this graph so it can be added to any website at a size you like, automatically updated annually.
The trends in the CO2 and temperature anomaly curves agree very well with each other.  This is surprising at first because CO2 is of course not the only factor that influences global temperature. There are two reasons for this agreement:
(1)  Of the other anthropogenic factors, some have a warming effect (other greenhouse gases such as methane) while others have a cooling effect (air pollution). These roughly balance in global average. The IPCC AR4 report found a radiative forcing of 1.7 W/m2 from the CO2 increase alone, while the total from all anthropogenic factors amounted to 1.6 W/m2.
(2)  Natural factors (volcanoes, solar cycle) influencing the trend are very small in comparison to anthropogenic CO2 (as e.g. standard correlation analyses show, see for example Lean and Rind 2008, Foster and Rahmstorf 2011). The IPCC AR5 found their contribution to global temperature change since 1951 to be in the range of −0.1°C to 0.1°C.
It requires quite some skill to produce a misleading graph like Watts' global climate widget, which hides the actual connections between global temperature, CO2 and the sunspot cycle. Watts' widget is quite a useful indicator though: whenever you see it on a website, you know they are trying to fool rather than inform you there.
Weblinks
A quick 'n dirty guide to falsifying AGW
Dot Earth: Warming Trend and Variations on a Greenhouse-Heated Planet