A new report on extreme climate events in Europe is just published: 'Extreme Weather Events in Europe: preparing for climate change adaptation'. It was launched in Oslo on October 24th by the Norwegian Academy of Science and Letters, and the report is now available online.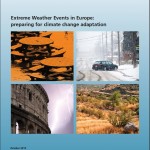 What's new? The new report provides information that is more specific to Europe than the SREX report from the Intergovernmental Panel on Climate Change (IPCC), and incorporate phenomena that have not been widely covered.
It provides some compelling information drawn from the insurance industry, and indeed, a representative from Munich Re participated in writing this report. There is also material on convective storms, hail, lightening, and cold snaps, and the report provides a background on extreme value statistics, risk analysis, impacts, and adaptation.
[Read more…] about A new European report on climate extremes is out