Technical Note: We have changed the contact email for the blog to reduce the amount of unsolicited email. If you want to contact us at the blog, please use contact-at-realclimate.org.
Yesterday, the New York Times ran an excellent cover story on sea level rise, together with two full pages inside the paper, fancy graphs and great photographs (online version here). The author, Justin Gillis, researched the piece for months, visited Greenland and talked to most of the leading scientists in the field – many of which he cites in the article. The science presented is correct and up-to-date and the story is a gripping read. That's how science journalism should be!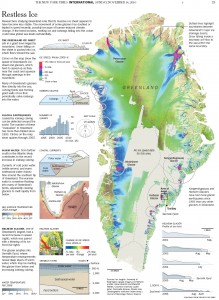 What is going on in Greenland? (c) The New York Times.
More »