The basic facts about the global increase of CO2 in our atmosphere are clear and established beyond reasonable doubt. Nevertheless, I've recently seen some of the old myths peddled by "climate skeptics" pop up again. Are the forests responsible for the CO2 increase? Or volcanoes? Or perhaps the oceans?
Let's start with a brief overview of the most important data and facts about the increase in the carbon dioxide concentration in the atmosphere:
Since the beginning of industrialization, the CO2 concentration has risen from 280 ppm (the value of the previous millennia of the Holocene) to now 405 ppm.
This increase by 45 percent (or 125 ppm) is completely caused by humans.
The CO2 concentration is thus now already higher than it has been for several million years.
The additional 125 ppm CO2 have a heating effect of 2 watts per square meter of earth surface, due to the well-known greenhouse effect – enough to raise the global temperature by around 1°C until the present.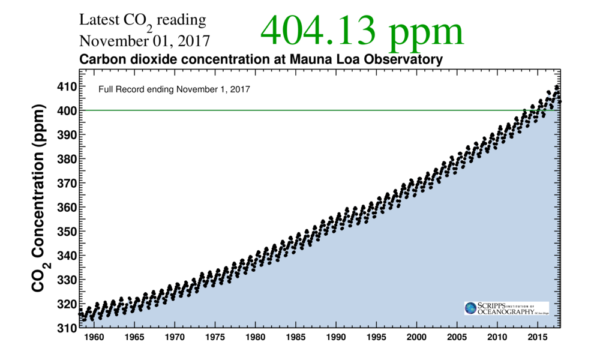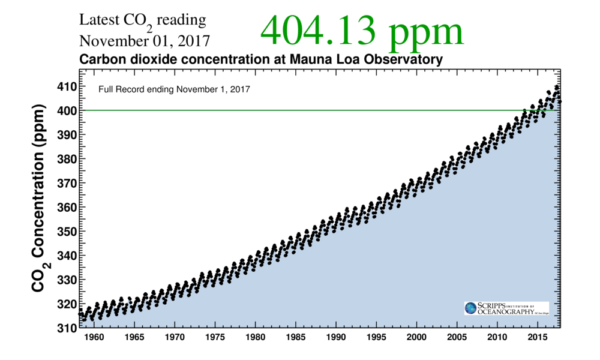 Fig. 1 Perhaps the most important scientific measurement series of the 20th century: the CO2 concentration of the atmosphere, measured on Mauna Loa in Hawaii. Other stations of the global CO2 measurement network show almost exactly the same; the most important regional variation is the greatly subdued seasonal cycle at stations in the southern hemisphere. This seasonal variation is mainly due to the "inhaling and exhaling" of the forests over the year on the land masses of the northern hemisphere. Source (updated daily): Scripps Institution of Oceanography. [Read more…] about The global CO2 rise: the facts, Exxon and the favorite denial tricks